It may not always feel like, but we are just a couple weeks away from the official start of spring! That means now is the time to prep your spring cleaning projects, including floor care. At this time of year, it's common to notice a dull white haze on your floors. That's ice melt residue, and it doesn't just make your floors look unclean; it can also damage the surface of your floors and degrade floor finish. Follow the tips below to remove ice melt residue and keep your floor looking great as we transition from winter to spring.
Removing Ice Melt Residue from Carpets: SSS Carpet Rinse Plus
Nothing makes floor mats and carpet look worse than the white residue left behind by ice melt. SSS's Carpet Rinse Plus neutralizes this residue to restore the look of your mats.
After applying your favorite SSS prespray to the mat or carpet according to label directions, extract with Carpet Rinse Plus at a dilution ratio of 1:64 (2 pounces per gallon of water). The result? A softer, brighter conditioned floor mat ready to tackle the next round of bad weather. SSS Carpet Rinse Plus is available in two sizes and is an economical choice no matter which option you select: 1 gallon or 2 liters.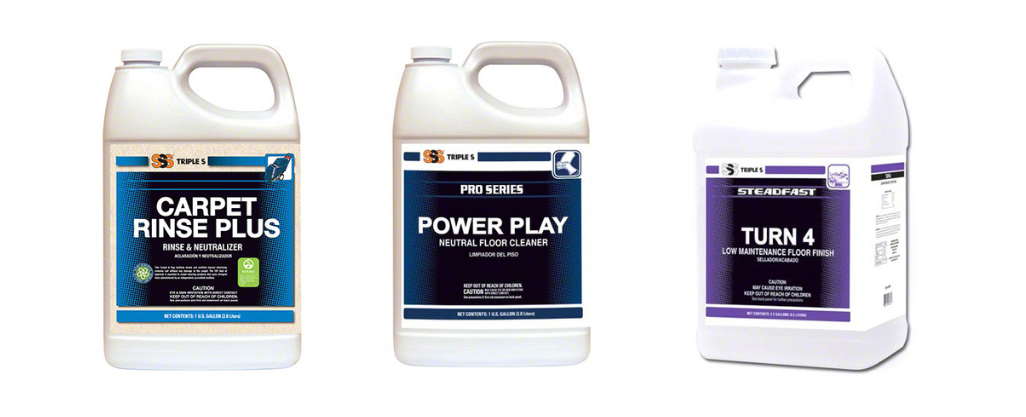 Spring Cleaning for Hard Floors: Scrub and Recoat
Give your hard surface floors a deeper clean for spring without having to strip with an efficient scrub and recoat. Scrubbing removes soil and dirt that became embedded over winter and will take off a couple coats of wax while prolonging the need for complete floor stripping.
To scrub away the top coats of finish, use an auto scrubber with a surface prep pad and cleaner to soften up the finish slightly. SSS Power Play Neutral Floor Cleaner dissolves all ice melt and hard water films and never leaves floors with a soapy haze. This solution also contains optical brighteners to further enhance the beauty of hard surface floors when dry. Click here to learn more and to order online!
When recoating, always use a floor finish that is compatible with the finish previously used, and consider traffic patterns, your desired maintenance program and any special requirements you have. Apply two to three new coats to restore appearance, gloss and durability to your floors and make them look good as new.
We love SSS Steadfast Turn 4 Floor Finish – it's a true workhorse in any maintenance program! This formula is great for high-traffic areas and creates a high initial gloss and durability with exceptional responsiveness to spray buffing. Click here to view this floor finish in our online catalog and place your order.
While all floor finishes wear down eventually and the need for a full strip and wax will never be fully eliminated, performing a scrub and recoat can prolong the time between strips.
For more info on floor care and our products that make your floors shine, contact us today!