Chemcraft Industries is proud to introduce the Pacific S-20 Orbital Auto Scrubber in Chicago, a cutting-edge piece of equipment designed to meet the diverse and demanding requirements of today's building service contractors, facility managers and more.
In this blog post, we'll delve into the remarkable features of the Pacific S-20 Orbital Auto Scrubber, and discuss why it's the perfect addition to your floor maintenance arsenal.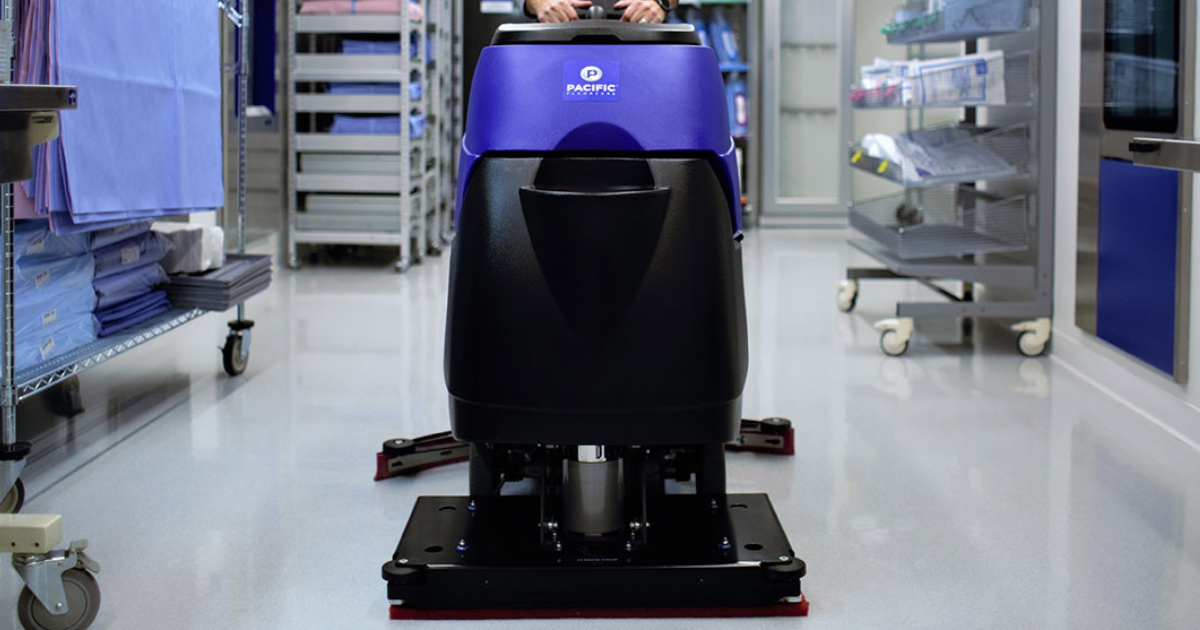 High-Performance Orbital Cleaning
The Pacific S-20 Orbital Auto Scrubber is designed with a powerful 1 HP motor, delivering exceptional cleaning performance that outshines traditional rotary scrubbers. Its orbital technology enables the machine to clean a wide range of surfaces efficiently, including VCT, terrazzo, concrete and even grouted tile floors.
By utilizing a rectangular 20×14-inch pad, the S-20 can reach tight corners and cover a large surface area, ensuring comprehensive and consistent cleaning results. Its high-speed, 2,200 RPM orbital action also provides a faster and more aggressive scrubbing motion, which reduces the need for harsh chemicals and saves both time and resources.
User-Friendly Design
The Pacific S-20 Orbital Auto Scrubber is designed with the user in mind, featuring an intuitive control panel and ergonomic handle. This allows for easy operation and maneuverability even in tight spaces, increasing productivity and reducing operator fatigue.
Additionally, the S-20 is equipped with a large 11-gallon solution tank and 13-gallon recovery tank, minimizing the need for frequent refilling and emptying, ultimately saving valuable time during the cleaning process.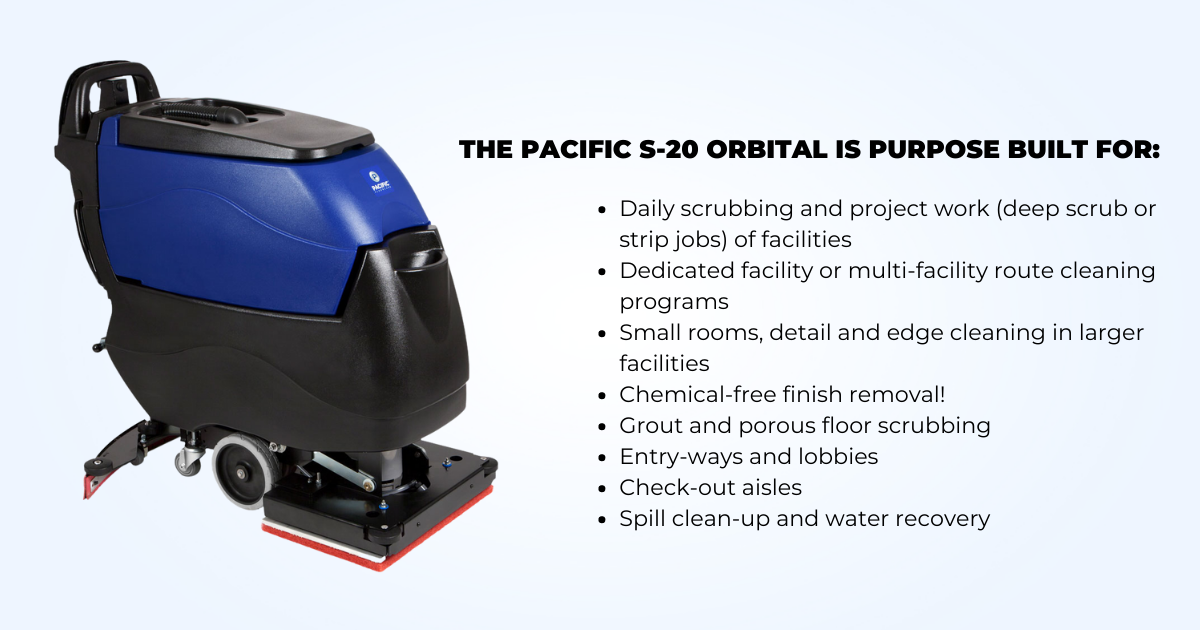 More Environmentally Friendly

Chemcraft Industries recognizes the importance of environmentally friendly cleaning solutions. The Pacific S-20 Orbital Auto Scrubber is designed with sustainability in mind, using less water and chemicals than traditional rotary scrubbers. This not only reduces the impact on the environment, but also lowers operating costs for your facility.
Low-Maintenance and Durable
The Pacific S-20 Orbital Auto Scrubber is constructed with high-quality materials, ensuring a long-lasting and low-maintenance investment for your facility. The durable cast aluminum frame and non-corrosive, rotomolded polyethylene body ensure a machine that can withstand the rigors of daily use in commercial settings. Additionally, the simplified brush/pad driver system makes it easy to replace or switch out components, reducing downtime and maintenance costs.
Demo this Pacific Auto Scrubber in Chicago Today!
The Pacific S-20 Orbital Auto Scrubber is a game-changer for building service contractors, property management and facility managers. With its high-performance cleaning capabilities, user-friendly design, and focus on environmental sustainability, this machine is an essential addition to your floor maintenance toolkit.
We offer two models of the Pacific S-20 Orbital Auto Scrubber in our online catalog. Click here to view the standard model, and click here to view the auto scrubber with Battery Shield, an automated wet battery protection system.
At Chemcraft Industries, we are committed to providing innovative solutions that improve efficiency, quality, and sustainability in the cleaning industry. Contact us today to schedule your in-person demo and learn more about how the Pacific S-20 Orbital Auto Scrubber can revolutionize your floor cleaning operations.
About Pacific Floorcare
Pacific Floorcare is a leading manufacturer of commercial floor cleaning equipment, providing innovative and high-quality solutions for a wide range of industries. With over 70 years of experience in the industry, Pacific Floorcare has established a reputation for excellence and reliability. The company's product range includes automatic scrubbers, sweepers, burnishers and extractors, designed to help businesses keep their floors clean, safe and attractive. Pacific Floorcare is committed to sustainability and offers eco-friendly cleaning solutions that minimize environmental impact. Whether you're looking for a simple solution for your small business or a complex system for a large facility, Pacific Floorcare and Chemcraft have the expertise and technology to meet your needs.