The Triple S Navigator four-station wall mount chemical dispensing system delivers maximum performance in minimum space.
The dispenser: This wall-mount model gives you the power of concentrates where, when and how you need them.
The bottle: Triple S's 2-liter refills fit all Navigator dispensers, and a new metering tip is pre-installed in each bottle.
The concentrates: There is a Navigator solution for every cleaning need! Triple S concentrates are cost-efficient formulas that provide high performance options for every application.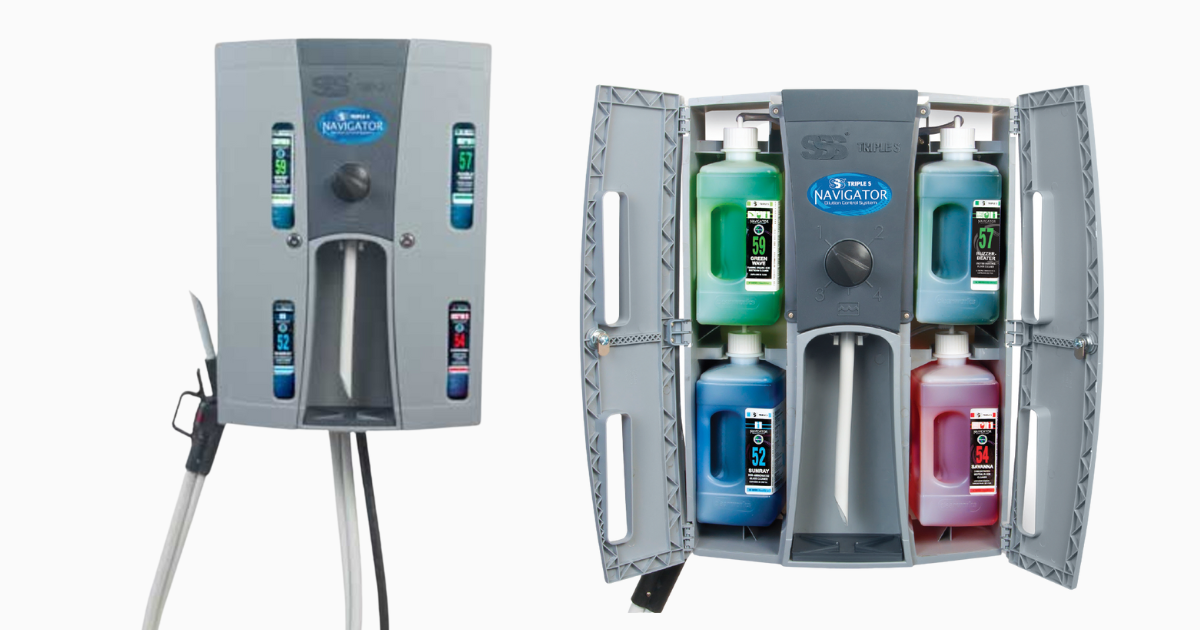 Navigator Dispenser Features
• Simple single-knob product selection
• Lockable cabinet holds four concentrate bottles
• On/off trigger at end of bucked fill hose for convenient one-hand bucket fill
• Quick, easy refill installation with no spills and no contact with chemicals
• 2.5 GPM dispensing with action-gap back-flow protection
• One-hand spray bottle fill – simply press up on actuator to dispense
• Space saving 16"w x 23" h x 8.7"d footprint
• Meets ASSE Standard 1055 for chemical dispensing equipment
No Spills or Chemical Contact
The Triple S Navigator features an innovative Safe-Guard System that protects your cleaning team. A leak-proof bottle insert integrates effortlessly with the dispenser connector, eliminating spills and preventing contact with concentrated product.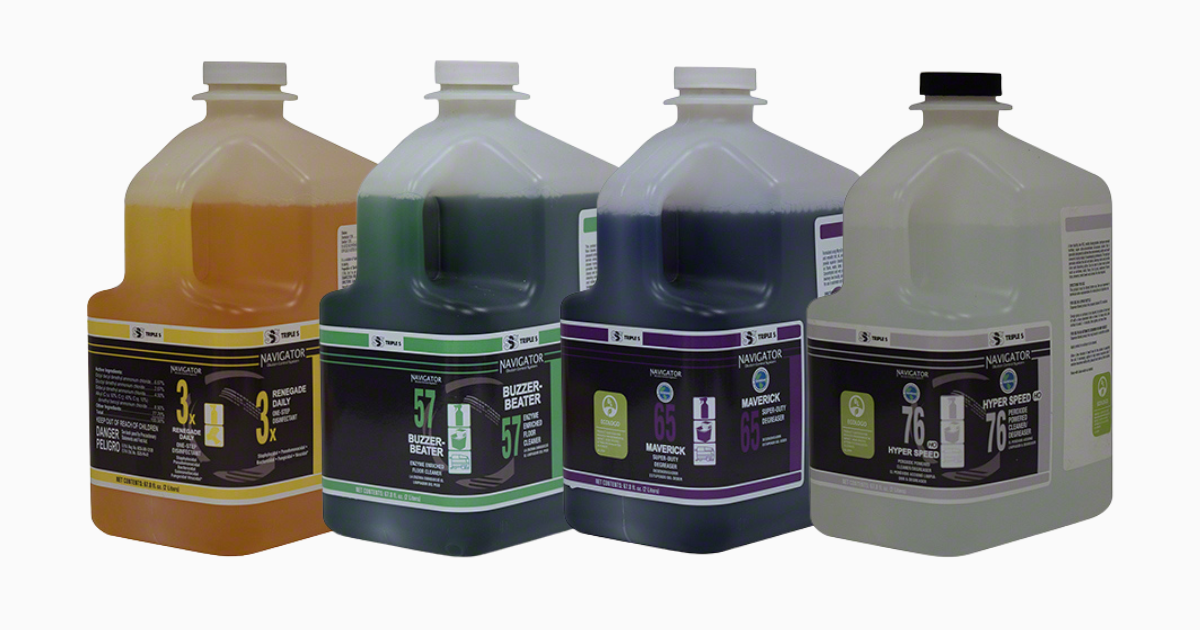 Navigator Concentrates for Every Application
3x Renegade Daily One-Step Disinfectant

Designed for healthcare facilities, schools and more, this concentrate kills the virus that causes COVID-19 in just one minute on hard non-porous surfaces. Effective three times faster than traditional disinfectants, Renegade is a real time saver! Cleans, disinfects and deodorizes in one step. Click here to order online.
#76 Hyper Speed Hydrogen Peroxide Concentrate
Specially designed to address the environmental, safety and health concerns facing today's housekeeping professionals, Hyper Speed oxidizes soil and stains while destroying odors. Use it on most hard surfaces, including windows, washroom fixtures, walls, floors, tile and grout, tubs, urinals, toilet bowls and more. Click here to order online.
#57 Buzzer Beater Enzyme Floor Cleaner
Perfect for food service areas, restrooms, hospitals, schools and more, this high performance floor cleaner does it all: cleans floors, eliminates odors and digests grease with no rinse required. The unique chemistry even provides safe bleaching action to brighten surfaces as it cleans and leaves surfaces sparkling clean. Click here to order online.
#65 Maverick Super-Duty Degreaser
This biodegradable formula is ideal for heavy-duty degreasing and industrial cleaning in food service areas. Can be used on walls, tables, desks and other hard surfaces. This formula effortlessly dissolves oil and protein-based soils better than conventional butyl-based products. Click here to order online.
With Triple S and Chemcraft, you get high performance solutions for every application. To see any of these products in-person, schedule your free demo today or contact your Chemcraft rep with questions.