Tired of dealing with clouds of wet, sticky solvents and propellants from metered aerosols? ourfresh from Fresh Products is the modern solution to metered aerosols for keeping restrooms fresh and smelling great!
One of the first things a customer notices when walking into a facility is how it smells. Give off a good first impression with the ourfresh Air Care System! This system ensures an equal fragrance release over a full 30 days and will provide a pleasant experience throughout your business.
The ourfresh system consists of a light-activated air freshener dispenser with dry fragrance inserts that release just the right amount of scent to keep your space fresh and clean without fragrance overload or aerosol residue. Using a small, high-velocity fan, these dispensers distribute fragrance using 5 to 10 times more power than other dispensers!
Dry fragrance technology is liquid-free and leaves no sticky residue.
Eco-friendly refills are 100% recyclable, VOC compliant and contain a biodegradable additive.
Superior 30-day performance beats the competition and provides consistent fragrance release from day 1 to day 30.
Easy to refill, simply hang your ourfresh system approximately 6 feet high in the center of your space for even fragrance distribution.
Perfect for medium spaces, ourfresh is for more than just restrooms! The system is also the ideal size for hallways, conference rooms and lobbies.
Innovative smart program ensures an equal fragrance release over 30 days. Contains a light sensor to conserve battery life so the unit only works when the room is in use. The smart chip controls the programming so the fan runs sparingly in week 1 and gradually turns more frequently over the 4 week period, helping release the same amount of air freshener daily over 30 days. Click here to learn more or to order online today.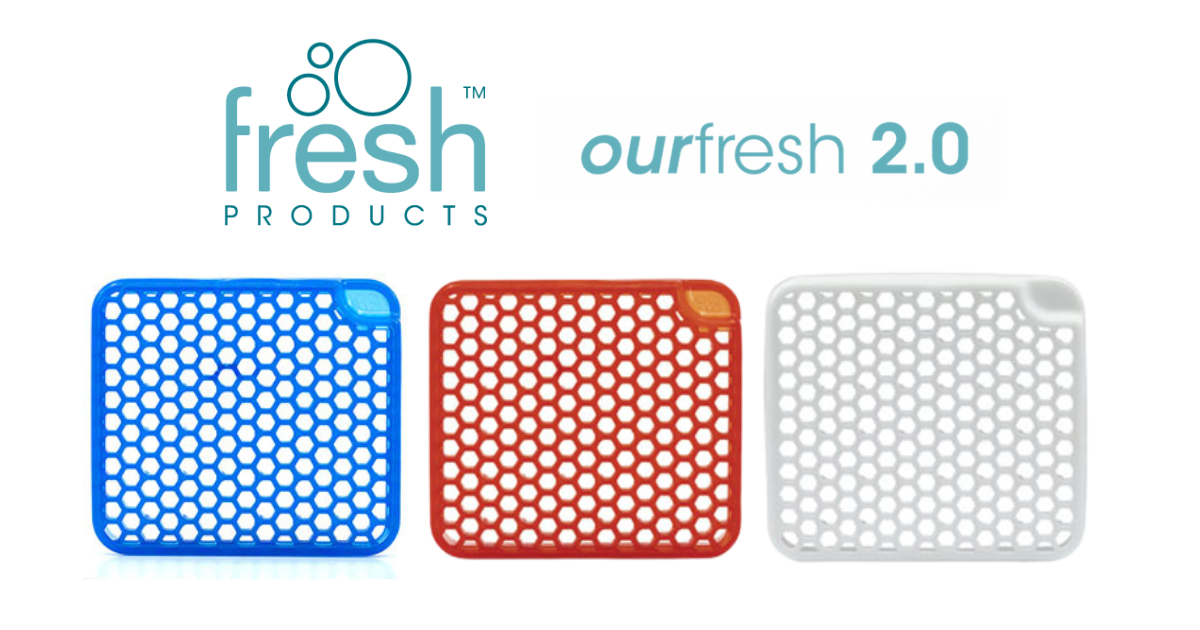 Ourfresh Tech Specs
• Light activated: Only runs when the lights are on!
• Requires one C Alkaline Battery
• Removing the battery starts the program over at day one
• Green light blinks every 15 seconds when program is running
• Red light indicates low battery or day 30 of the program
• On day 30, the word "Replace" flashes, and an audible beep begins on day 33 if the battery and refill haven't been replaced
A Fragrance for Every Season and Preference
Available in eight distinct fragrances, there is an ourfresh option for every preference!
Want a fresh, light scent for spring? Choose Coconut Vanilla, Cucumber Melon, Seaside Breeze or Spa Minerals. Mango and Summer Sunshine are perfect for the warmer months, and Spiced Apple is one of our favorites for fall. We love the crispness of Cotton Blossom during winter!

Surge 3D Urinal Screens
Like the ourfresh system, these urinal screens release fragrance over 30 days to keep your urinals and restrooms smelling fresh. The Surge doesn't just mask, it releases optimized bacteria that consume odors. The revolutionary design features a post and lattice design extending through the screen and diffuses the urine stream while releasing a pleasant fragrance. The 2-sided anti-splash design removes 99% of urine splash either side up! The Surge 3D easy reminder system lets you know when it's time to replace the screen. Simply remove the tabs upon installation to set your replacement date. Click here to view all our fragrances, including Citrus Celebration, Cotton Blossom Breeze, Mango Delight and Zesty Apple.
A clean and pleasant smelling restroom can have a positive impact on customers' perception of your business. With ourfresh, you never have to worry about fragrance overload, sticky residue or cumbersome replacements. It's simply the easiest, most efficient way to ensure your restrooms always smell fresh and clean! Contact us today to learn more or to place your order!