We talk a lot here at Chemcraft about making facilities clean and safe for employees, guests and visitors… but there's one more group we care about just as much: our furry friends!
When it comes to cleaning spaces occupied by animals, the right products are key. You want formulas that get the job done without causing harm to our animal friends, and we are happy to recommend the following products that are designed to create a safer and healthier environment for animals and their care providers: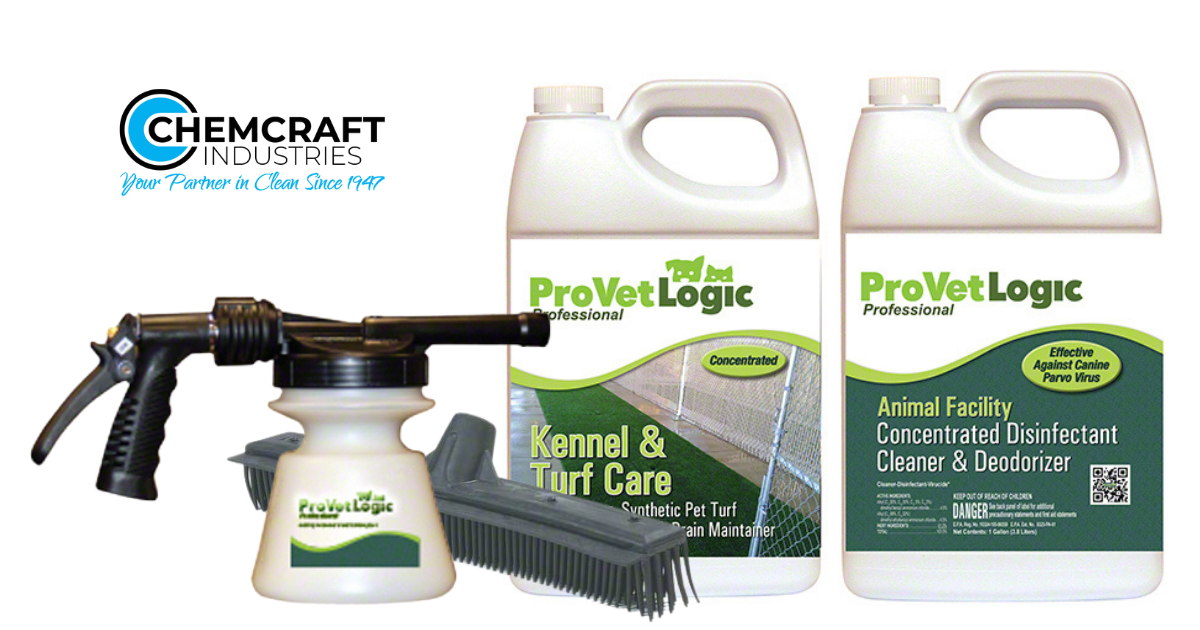 ProVetLogic ProFoam2 Foam Gun
This foam gun automatically dilutes and dispenses RTU solutions into an economical, clinging foam. We recommend it for use with V01 Animal Facility, V02 Kennel Care and V09 Stable Environment and love how easy it makes applying and rinsing solution. Click here to order online.
Carlisle VersaClean Brush with Squeegee
This brush easily cleans up messes from wet or dry spills and is perfect for scrubbing heavy tile, grout and even rough concrete surfaces. It can be used as an agitator for those stubborn spots, and its built-in one-piece squeegee cleans up wet surfaces quickly. The unique electrostatic pull-broom action even pulls up light debris and hair from bare floors, rugs and carpets. Click here to shop now.
ProVetLogic Kennel and Turf Care
Available in gallon containers, this high performance bacterial-enriched floor cleaner, odor eliminator, organic waste degrader, synthetic pet turf cleaner and floor drain maintainer is a must-have for anyone caring for pets! Click here to order online.
ProVetLogic Animal Facility Disinfectant Cleaner
This highly-concentrated disinfectant is economical and effective against a broad spectrum of bacteria, fungi and viruses associated with animal facilities, including Canine Parvo Virus. It leaves behind a fresh, clean surface with a linen odor and is perfect for any hard nonporous surface in animal facilities. Click here to shop now.
Interested in learning more about these products? Contact us today with any questions!