We talk a lot here at Chemcraft about making facilities clean and safe for employees, guests and visitors… but there's one more group we care about just as much: our furry friends!
When it comes to cleaning spaces occupied by animals, the right products and equipment are key. Kaivac's cleaning machines blast away soils and contaminants and then vacuum them up for perfectly clean, safe results every time. These units allow workers to efficiently clean floors, examination rooms, kennels, grooming areas and other hard surfaces 60 times better than mops, without having to touch unpleasant soils, surfaces and contaminated areas.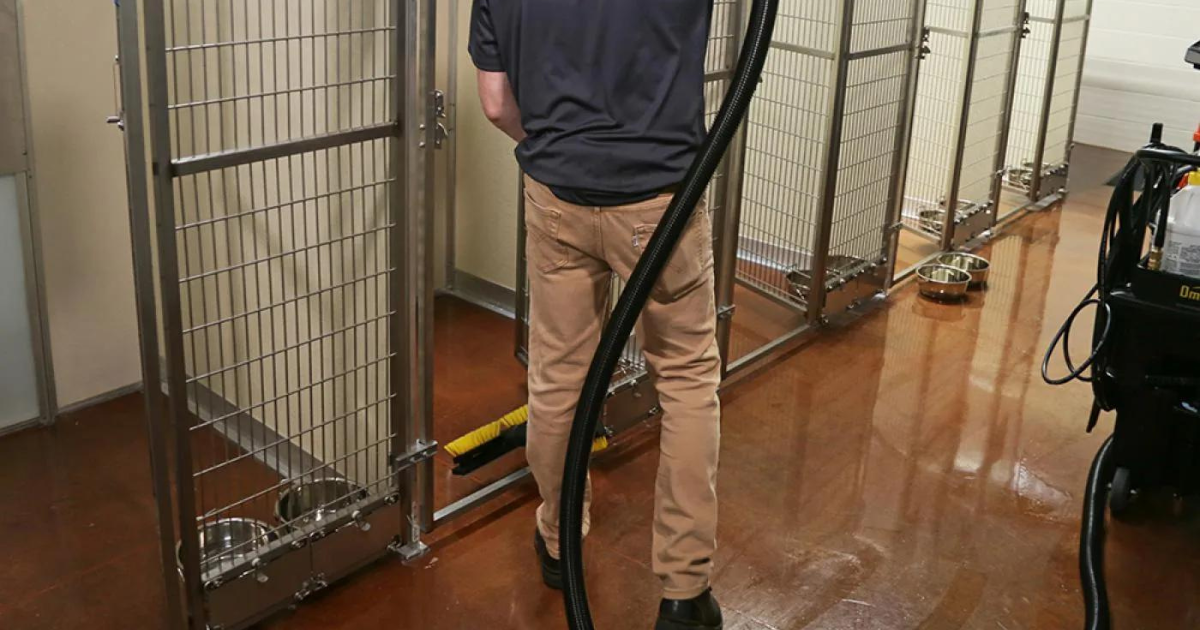 Get Your Kennels Kaivac Clean
What's a clean you can't smell? We call that "Kaivac clean!" Instead of smelling like chemicals and cleaning solutions, a Kaivac clean space is odor-free. That's the ultimate indicator of freshness for a pet care facility.
Odors in pet care facilities can have many sources, including animal waste and bacteria. Mold and mildew can also cause bad smells, and the only way to remove those smells is to remove the source. Unfortunately, mops aren't great at removing dirt and germs, and they can even make bad smells worse by depositing dirty water right onto the offending bacteria.
Using a Kaivac No-Touch Cleaning system vacuums dirty water away, leaving surfaces clean, dry, ready to use and odor free. This all-in-one technology can be used for fast cleanup of unanticipated messes, daily routine maintenance or weekly deeper cleans.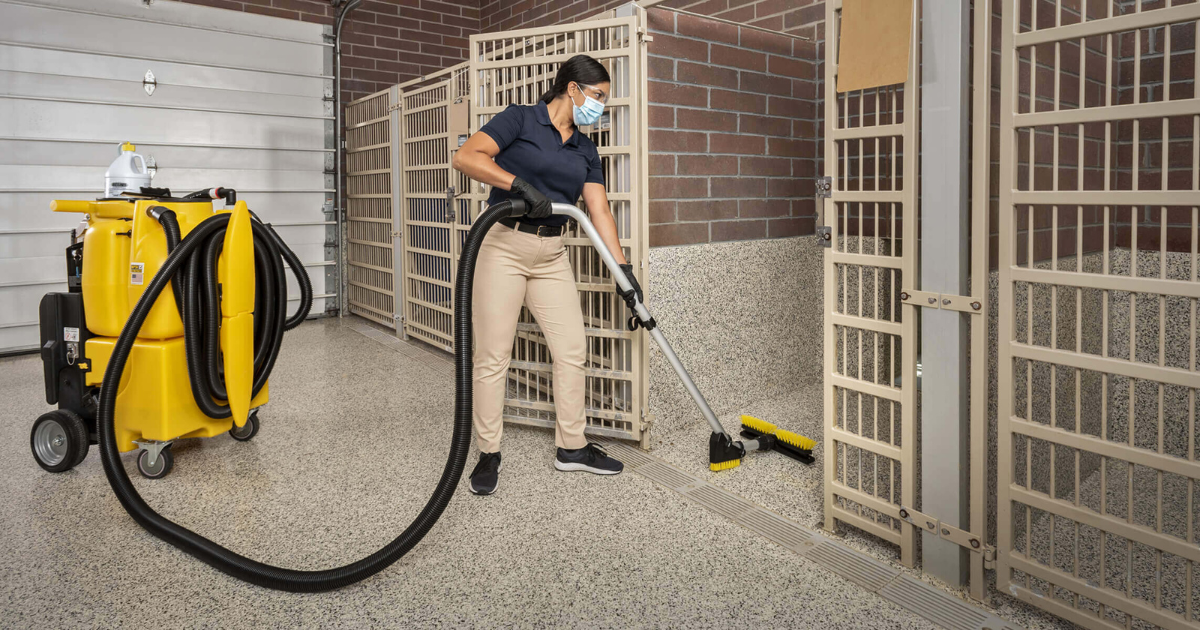 The Kaivac 1750 No-Touch Cleaning System is perfect for pet care facilities. Simply apply an automatically diluted cleaning solution to fixtures and floors in a low pressure fan spray, and then blast surfaces and floors with always-fresh, clean water. The built-in power of the indoor pressure washer flushes soils out of grout lines and tight places that mops can't reach. Finally, just vacuum the floor dry-completely removing soils, moisture and contaminants from all surfaces, grout lines and crevices, leaving the floor virtually dry and soil free.
For even greater flexibility, choose the cord-free lithium-ion option! Cord-free operation is great for day cleaning in busy facilities, especially when animals are under foot. Check out the lithium-ion Kaivac 1750 No-Touch Cleaning System here.
Cleans Better
Kaivac's No-Touch Cleaning systems are up to 60 times better in removing bacteria from grout lines than mopping!
Cleans Faster
An operator trained on a Kaivac No-Touch machine can clean as fast as one minute per fixture compared to an industry average of three minutes per fixture on your hands and knees.
Safer Floors
The efficiency of Kaivac's system means floors are dried instantly. This reduces the risk of slip-and-fall accidents, resulting in safer facilities.
Chemical Savings
Automatic chemical metering improves chemical efficiency, reduces waste, and protects your cleaning team from unnecessary chemical exposure. In fact, the system is so powerful that many users achieve outstanding results with plain water.
Easy To Clean Out
No-Touch Cleaning systems are easy to clean out with the convenient dump hose right into any toilet.
Multi-purpose, Versatile
Machines can be used throughout your building, from exam rooms and kennels to waiting areas and restrooms.
Spill Pick Up and Response
No-Touch machines enable rapid and complete removal of wet spills to keep employees, customers, and surfaces clean and dry, ready for immediate use.
A Daily Kennel Cleaning Checklist
Use your Kaivac No-Touch Cleaning System for daily maintenance that keeps your pet care facility clean and safe. Kennels should be cleaned daily. Start by removing the animal from the space, then remove water and food bowls, toys and bedding. Next, we recommend soaking toys and bowls in diluted disinfectant, then removing any solid waste. Vacuum or sweep to remove hair or food crumbs, then use your No-Touch Cleaning System to clean the area from the top to the bottom using detergent. Finally, vacuum dry to remove soils, contaminants and moisture and leave the space virtually soil free!
Choosing the Right Disinfectant for Kennel Cleaning
Using the right disinfectant is just as important as equipment when it comes to kennel cleaning. We highly recommend ProVetLogic Animal Facility Disinfectant Cleaner! This highly-concentrated disinfectant is economical and effective against a broad spectrum of bacteria, fungi and viruses associated with animal facilities, including Canine Parvo Virus. It leaves behind a fresh, clean surface with a linen odor and is perfect for any hard nonporous surface in animal facilities. Click here to learn more or to order online.
We also love ProVetLogic Kennel and Turf Care solution. Available in gallon containers, this high performance bacterial-enriched floor cleaner, odor eliminator, organic waste degrader, synthetic pet turf cleaner and floor drain maintainer is a must-have for anyone caring for pets! Click here to order online.
Interested in learning more about how our cleaning supplies in Chicago can make your pet care facility cleaner, safer and healthier for both pets and people? Contact us today to schedule your free in-person demo of the Kaivac No-Touch Cleaning System!