Winter weather will be here soon! Get pre-season prices and additional discounts in ice melt orders before October 15, 2022. Further discounts available for multi-pallet orders! Please call or email your rep for pricing and more information, or reach out to Michelle at [email protected] with any questions.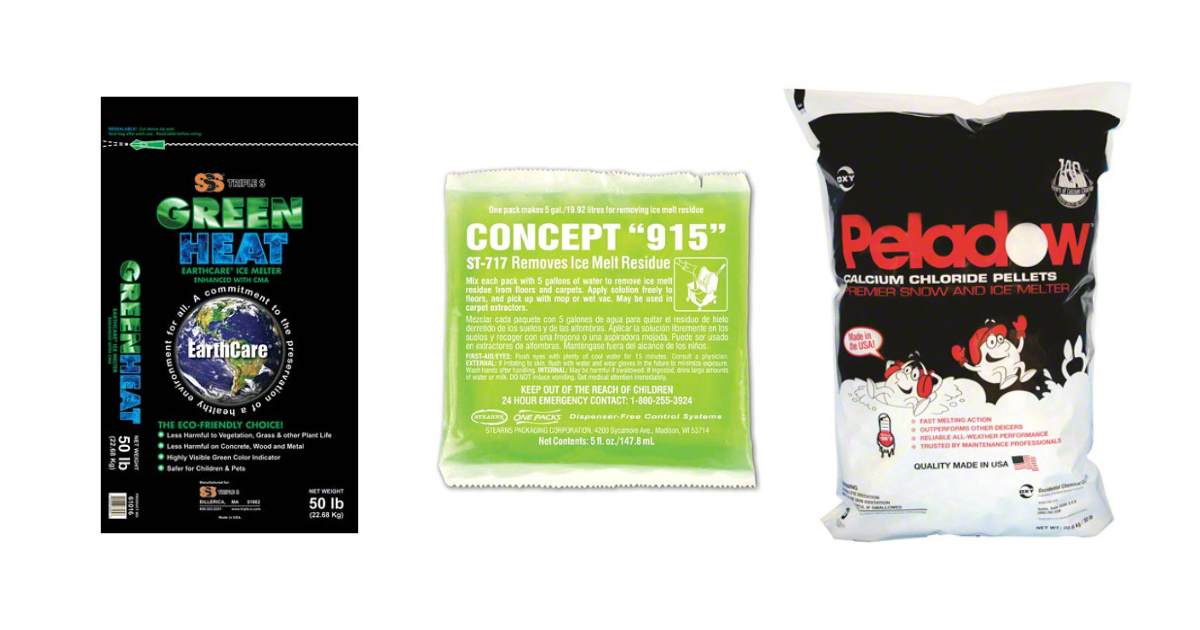 Free Box of Concept "915" with Your Pre-Season Ice Melt Pallet Purchase!
Get a FREE box of Concept "915" Ice Melt Remover! This solution eliminates the white crust of residue left behind by ice-melting compounds. One pack makes five gallons and leaves floors sparkling clean. Great for carpets too, and we love the pleasant sassafras fragrance. Click here to learn more.
SSS Green Heat EarthCare Ice Melter
Specially enhanced with calcium magnesium acetate and other eco-friendly ingredients, Green Heat is less harmful to vegetation, grass and other plant life. It melts to temps of 15 below and is the most environmentally-friendly ice melter formulations on the market today! Safer to use around children and pets. Highly visible green color indicator ensures precise and cost effective spreading. Perfect for concrete, walkways, driveways, wood and metal surfaces. Click here to learn more!
Peladow Ice Melt
Unlike rock salt and potassium chloride, Peladow calcium chloride readily attracts moisture from the atmosphere, allowing it to form a liquid brine very quickly and fan out beneath the ice, breaking its bond with the pavement. Other deicers lose their effectiveness quickly when they become diluted with water, but even when diluted to 20% concentration, Peladow keeps working down to -4 degrees F. Click here to learn more.