We are reminded throughout winter that floor mats are our first line of defense against salt, grime and moisture. The right floor matting can reduce the risk of slip-and-fall accidents while protecting your floors, but only if your matting is well-maintained. Follow these tips to keep your mats in top condition all winter long.
Vacuum, Vacuum and Vacuum Again
Vacuuming is central to any matting maintenance program. Your mats should be vacuumed at least once a day, but higher traffic areas may need to be vacuumed up to three times a day or more.
Vacuum as often as necessary to keep dirt, salt and debris from making it into your building. While you'll increase the amount of time you spend vacuuming during winter, you'll save on overall floor maintenance time and costs. Vacuuming regularly is very cost-effective and can remove up to 80% of surface dirt.
Remember that the more dirt in a mat, the harder it is for that mat to do its job.
Deep Clean with Hot Water Extraction
Deep clean your floor mats weekly or monthly, depending on weather and foot traffic.
Hot water extraction pulls up grime and dirt from the bottom of your mats, giving the fibers a thorough cleaning. This effective, efficient cleaning method works by spraying a hot detergent and water solution under pressure into the pile immediately followed by extraction by a vacuum head mounted adjacent to the spray nozzle.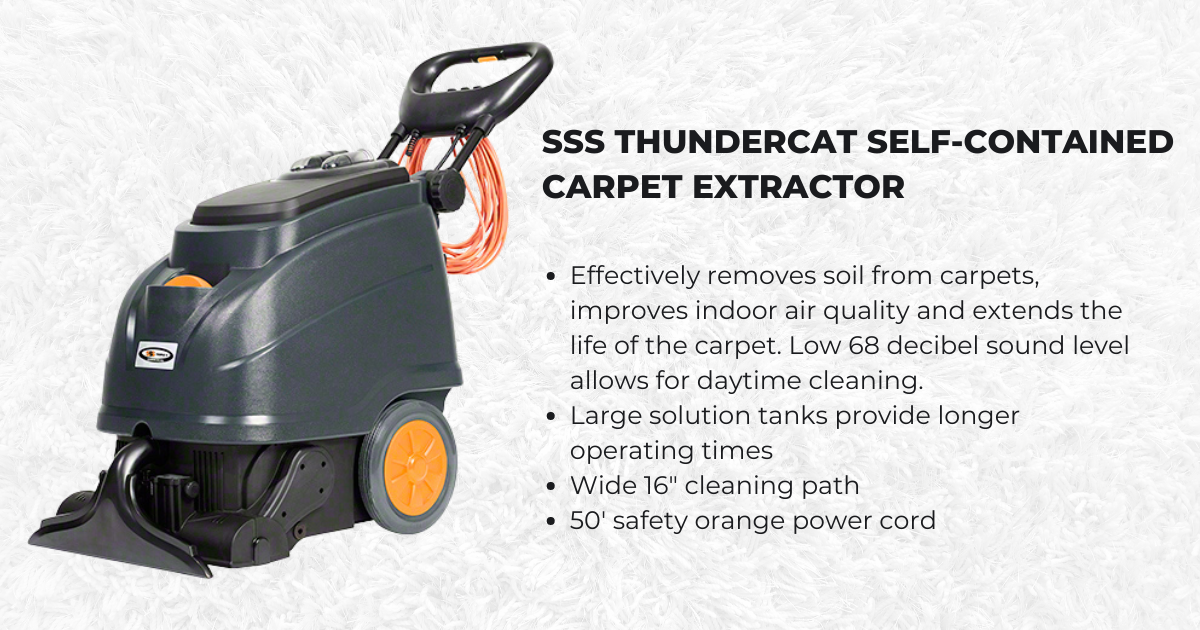 We love the reliability and dependability of the SSS Thundercat Self-Contained Carpet Extractor. This unit features large solution tanks to provide longer operating times and a wide 16" cleaning path. The ergonomic handle adjusts to operator height to reduce fatigue, and it is easy to maintain and service with no tools required. It's also quiet, with low 68 decibel sound levels to allow for daytime cleaning.
Need more versatility for cleaning around furntiure, tight areas or stairs?  Pair the Thundercat with the Viper Upholstery Tool Kit (featuring a 4.5" hand tool assembly kit complete with hoses) or the Viper 10" floor tool kit with hoses.
Neutralize Residue with SSS Carpet Rinse Plus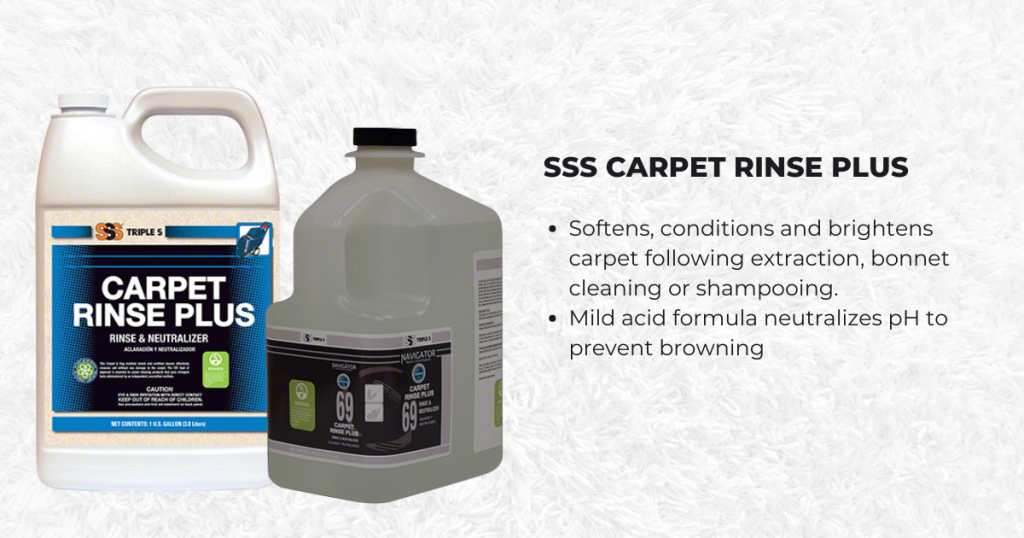 Nothing makes floor mats look worse than the white residue left behind by ice melt. SSS's Carpet Rinse Plus neutralizes this residue to restore the look of your mats.
After applying your favorite SSS respray to the mat according to label directions, extract with Carpet Rinse Plus at a dilution ratio of 1:64 (2 pounces per gallon of water). The result? A softer, brighter conditioned floor mat ready to tackle the next round of bad weather.
SSS Carpet Rinse Plus is available in two sizes and is an economical choice no matter which option you select: 1 gallon or 2 liters.
Following these tips can extend the life of your floor mats, reduce the risk of slip-and-fall accidents, protect your floors from scratches and damages and create a more welcoming entrance for your facility.