When it comes to cleaning supplies, we are always looking for the trifecta of simplicity, savings and results. EnvirOx's Multi-Purpose Cleaner delivers! This one product can take care of 95% of your general cleaning needs.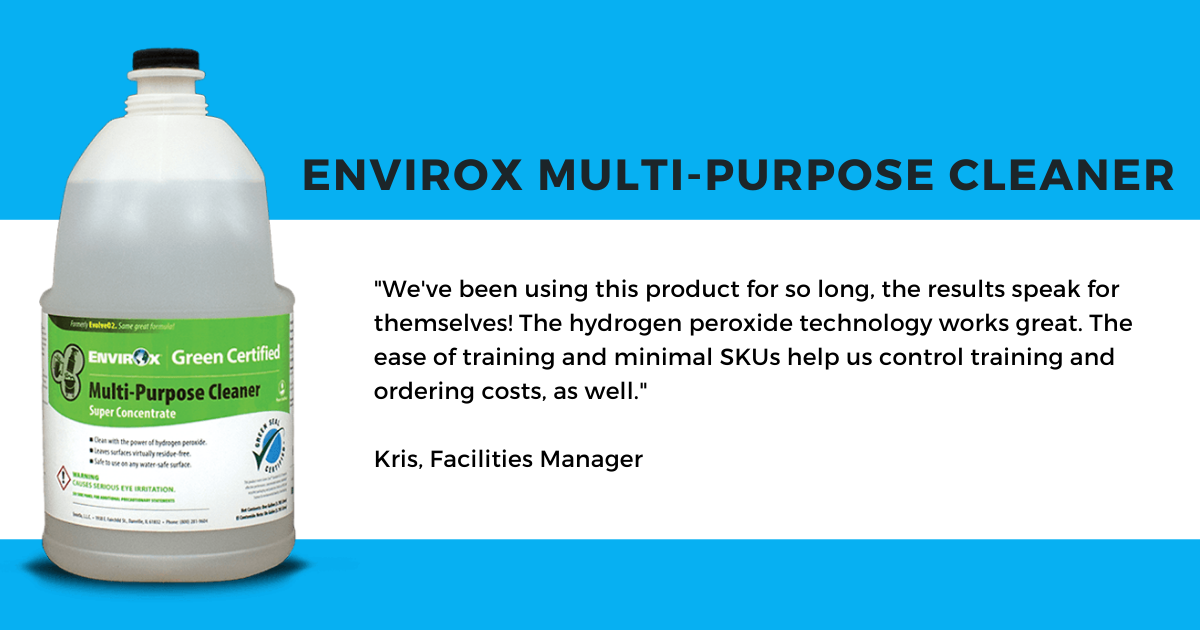 Replace Dozens of Specialty Cleaners
This incredibly versatile formula can take the place of dozens of other products. When we say it can be used for 95% of your general cleaning needs, we mean it. Take a look at these applications:
Glass cleaning
Polishing and cleaning stainless steel
Floor cleaning
Restroom cleaning
Carpet spotting
Carpet cleaning
Degreasing
Deodorizing
Tile and grout renovation
And more!
As a degreaser, this multi-purpose cleaner cuts grease with neutral pH and is safe for use on any water-safe surface for grease-free, residue-free results.
As a deodorizer, it kills odor-causing bacteria easily by penetrating surfaces, oxidizing and eliminating odor sources.
Safer Simplicity
EnvirOx's easy visual training materials make learning to use this product fast and simple. Because Multi-Purpose Cleaner can replace dozens of other products, you'll save time and money by only training your staff on one product. It's safer, greener formula also means it's practically impossible to misuse.
EnvirOx Means Savings
This safer, gentler formula is better for surfaces and staff, saving you on costly repairs and workers' compensation. Easier, faster training means less time and money spent, and you'll be shocked by the cost comparison we can provide.
Great Results
This formula is based on a proprietary hydrogen peroxide technology and penetrates deep, breaking down and lifting soils for easy cleaning. Say goodbye to sticky surfaces — it cleans with little residue. Ask us for a demo on glass, grout or carpet!
Ready to achieve simplicity and savings? Get your custom cost comparison, place your order or schedule your demo today by contacting Chemcraft!